Accessing, Registering, and Corporate Codes
---
To access Soulscape you need to be a premium member of RenewMe or a customer of one of our exclusive corporate or travel brand partners.
If you are a RenewMe subscriber, you will have access to Soulscape for the lifetime of your subscription.
If you are a Soulscape member with a corporate code, your access to Soulscape will only last for the duration of the contract with the partnered brand.
---
Disclaimers, Privacy, and Terms and Conditions
---
Please read over our disclaimers, terms and conditions, and privacy policies which are located on the app and on the website.
---
Bookings and Travel Issues
---
Soulscape and RenewMe are not responsible for your bookings or travel issues. Please contact the vendors and travel partners directly to address your bookings concerns and changes.
---
Corporate Codes
---
If you are a customer of corporate brand you will need to register in Soulscape with the unique corporate code provided to you. Your corporate code will give you access to Soulscape for the period of time determined by the corporate partner. Once your code expires, you will need to enter into a new corporate code for access.
---
RenewMe Subscribers and Access to Soulscape
---
All RenewMe subscribers also have access to Soulscape for the duration of their subscription with RenewMe.
---
The Home Page
---
The Home Page is your main suite where you can access all of the exclusive offerings Soulscape has to offer to make your travel mindful and more balanced. Here you can see buttons to access tips for travel, traveling safe, staying healthy, being mindful, travel checklists, and even easy access to bookings. Additionally, we have recommendations for meditations and helpful audio tracks to make your travel experience more relaxed and blissful.
---
Music Selections
---
You may access different music selections to enhance your Soulscape experience by clicking on the "Music Note" in the top right corner wherever you see it appear.
---
Stay Healthy Page
---
Gives you access to articles on different health and wellness topics to help you stay fit and balance your mind and body while you are on the road.
---
Travel Safe Page
---
Gives you access to news updates, weather updates around the world, and how to travel safe so that you can have the most hassle-free experience on your journey.
---
Travel Tips Page
---
Whether you are a jet-setter, cruise-lover, or staying at a hotel, the "Travel Tips Page" will give you access to weather updates as well as how to pack and prepare depending on how you choose to travel in order to make it a safe, smooth, and balanced adventure!
---
Travel Checklists Page
---
Gives you essential tips on how to stay balanced while you are traveling whether you are on vacation, traveling with kids, or on business.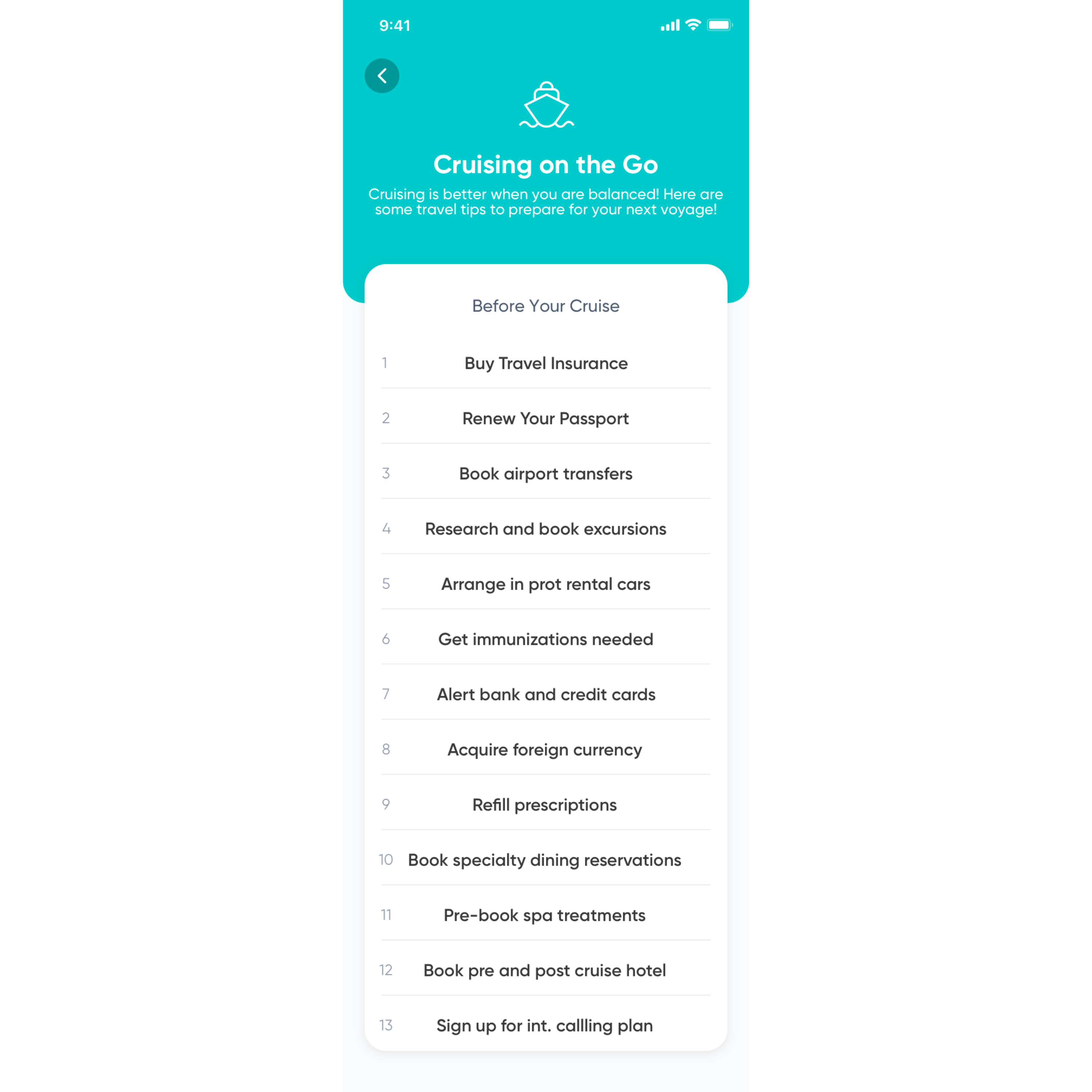 ---
Book a Trip Pages
---
Soulcape makes it easy to book a trip and find a deal with our Book a Trip Pages. The pages will lead you directly to the websites where you can search for vacations, hotels, car rentals, and flights. Note: RenewMe and Soulscape is not directly responsible for your bookings, but providing easy access for you through the app. You must call the booking agency directly for any and all inquires related to booking or changing your upcoming travels.
---
Profile Page
---
On this page you will be able to change your profile photo, access your subscription, account settings, information about Soulscape, and help and support. Additionally, you will be able to download the RenewMe app if you don't already have access to RenewMe.
---
---